Bandhavgarh National Park
March – May
October – February
Flight: New Delhi – Jabalpur
Railway: New Delhi – Katni Murwara OR New Delhi – Jabalpur
About Bandhavgarh National Park
Bandhavgarh National Park is known for its historic as well as wildlife significance. First mentioned in the Shiv Purana, this jungle has a mythological touch we're sure you did not know of. Its name itself comes from two Hindi words, "Bandhu" meaning brother and "Garh" meaning fort. It was a gift from Lord Rama to his younger brother Laxmana and so, the Bandhavgarh Fort paints the story of the epic Ramayana ever so gracefully in its artifactual manner.
Coming to Bandhavgarh National Park's wildlife, a little backstory is must. The park's fame is owed to one of the most enchanting Tigress, Sita, and the most aggressive Tiger, Charger. Every wild Tiger has a short life span for which it remains dominant in the park; though Charger, was something different. He lived an unusually long life and ousted every male Tiger who tried to take over the reins in Bandhavgarh. Unfortunately, it was only a matter of time when his age gave in.
Two other Tigers B1 and B2, cousins to each other, tried to ambush his territory as he grew older and the latter succeeded. B1 died an uncertain death while B2 ruled as King for the next few years. He became the poster boy for Indian wildlife and put Bandhavgarh National Park at a pedestal for wildlife tourism in India. BBC, Discovery, National Geographic and even Icon Films could not resist but share the stories of these true legends.
Their anecdotes continue to resonate the park's silence. It is only fair to say that the park, although smaller in area compared to its sister parks in Central India, is one of the most densely populated parks with Tigers. In fact, it is not only tigers but wildlife like the Indian Leopards, Jungle Cats, Indian Wild Dogs, Jackals, Sloth Bears, Barking Deers and more, that inhabit this picturesque landscape. Explore the most popular Bandhavgarh tiger safari tours in India.
Bandhavgarh National Park Tiger Safari Tours
Includes : Tiger Safari Holidays, Wildlife Safaris in India
A land of the Royalty homing the Royal Bengal Tiger! What more could you have asked from a tiger safari tour that perfectly blends …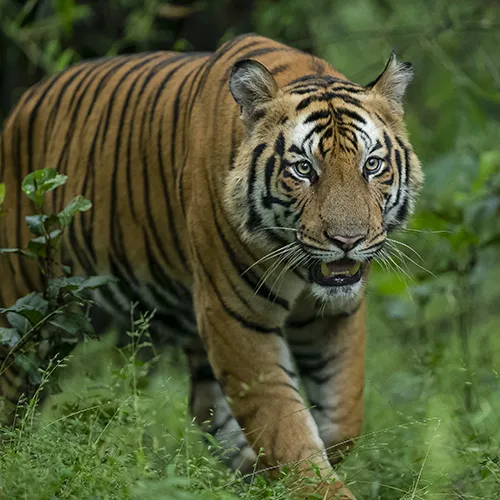 Includes : Tiger Safari Holiday Package in Bandhavgarh
A prime tiger safari park in central India, Bandhavgarh National Park is a healthy mix of Sal and Bamboo thickets. This park, although smaller…
Includes: Tiger Safari Holidays, Taj Mahal Tour, Varanasi and Khajuraho Temples
India, a name synonymous with the presence of Royal Bengal Tigers, architectural vistas and spirituality, brings to you …
Popular Fauna at Bandhavgarh National Park
His majesty, the national animal of India. The Royal Bengal Tiger is considered by many naturalists as one of the most powerful apex predators. You catch a glimpse of this big cat in action at the Bandhavgarh National Park.
The gaur also known as the Indian bison, is a bovine native to South and Southeast Asia, and has been listed as Vulnerable on the IUCN Red List since 1986.It is the largest species among the wild cattle and the bovidae.
This is a species of deer that is native to the Indian subcontinent. The chital is a moderately sized deer. Males reach nearly 90 cm and females 70 cm at the shoulder; the head-and-body length is around 1.7 m.
Also called Hanuman langurs or Hanuman monkeys, are Old World monkeys native to the Indian subcontinent. Gray langurs are fairly terrestrial, inhabiting forest, open lightly wooded habitats, and urban areas.
Tiger Safaris at Bandhavgarh National Park
Bandhavgarh National Park conducts two types of jeep safaris. A full-day safari and a half-day safari.
Half Day Jeep Safaris: A half-day jeep safari can be further categorized as a morning safari and an evening safari. The morning safaris start around 0600 hours depending on the sunrise time and last for about 4.5-5 hours. After the morning safari, the guest heads back to the lodge/resort.
You can freshen up, eat a quick lunch, relax for a bit and later head back into the jungle for your evening safari. The evening safari lasts for about 3 – 3.5 hours depending on the time of sunset. Post your evening safari, you head back to the lodge for dinner and take the rest of the evening at leisure
Full Day Jeep Safaris: A full day safari is a jeep safari wherein your vehicle/jeep enters the park 15-20 minutes prior to all other safari vehicles. You spend the day within the national park, including eating lunch amidst the forest wilderness.
You head back out 15 minutes after all the jeeps have exited the park post the evening safari. This type of safari proves more fruitful during pleasant months like October – November or even the fag end of February – March. A full-day safari is also mostly taken by professional photographers who are following a particular species or documentarians who wish to film a specific family within the national park.
Accommodations at Bandhavgarh National Park
Lets plan your safari tour. Please fill the enquiry form below and our team will get back to you within 24 hours with a perfect safari package.