If wild cats excite you, this blog covering Clouded Leopard, Caracal, Jungle Cat, Bobcat, and Lynx is a must-read. You may have read about the different species of big cats on our blogs like The Royal Bengal Tiger, Asiatic Lion, Indian Leopard, and Snow Leopard. We covered almost every possible information about the big cats like size, hunting, prey, mating, parks & reserves where you can find them, and a lot more. Our visitors often ask us about the other cat-family species present in the wild, so in this, we are going to cover other small cat species – Clouded Leopard, Caracal, Jungle Cat, Bobcat, and Lynx.
Big Cats vs Small Cats  – What makes the difference?
Panthera is the most common genus for big cats. The genus Felis includes both small and medium-sized cats, such as domestic cats. Although they share a family tree with other cats, cheetahs belong to their own genus, Acinonyx, because of their inability to retract their claws.
The sound they make is the primary way in which big cats are distinguished from their more common relatives. Cats of a smaller size meow, while those of a larger size roar. With the help of a ligament in their vocal cords, they can also squeak, grunt, scream, and make a variety of other noises. The lion's roar is the most well-known due of the unique shape of its vocal cords, which also allows the tiger's roar to be heard from up to five miles away.
Only lions, which are social creatures, live in groupings known as pride. The female lions in a pride often work together to knock down huge animals like wildebeests and zebras. With the exception of moms and cubs, all other big, as well as small cats, are solitary. The snow leopard is one of the most elusive of all wild cats.
Explore Lion, Bengal Tiger, Indian Leopard, Snow Leopard, and more on our Big Cats of India Safari Tour or browse all popular tiger safari tours in India.
The top 5 mid-small cat species are Clouded Leopard, Caracal, Jungle Cat, Bobcat, Lynx
1. Clouded Leopard
The Clouded Leopard, a medium-sized feline, lives in the thick tropical jungles of south and southeast Asia. In spite of its name, the Clouded Leopard is not particularly related to Leopards and is instead thought by many to be the evolutionary link between large and small cats.
Due to the extreme nocturnal nature of the clouded leopard and the fact that it is so reticent to approach humans, little is known about the animal's behaviour in the wild. There are now two distinct species of Clouded Leopard: the mainland Clouded Leopard and the island-dwelling Sunda Clouded Leopard (Borneo and Sumatra). Both species are critically endangered due to the widespread destruction of their tropical forest habitat and human poaching for their meat and fur.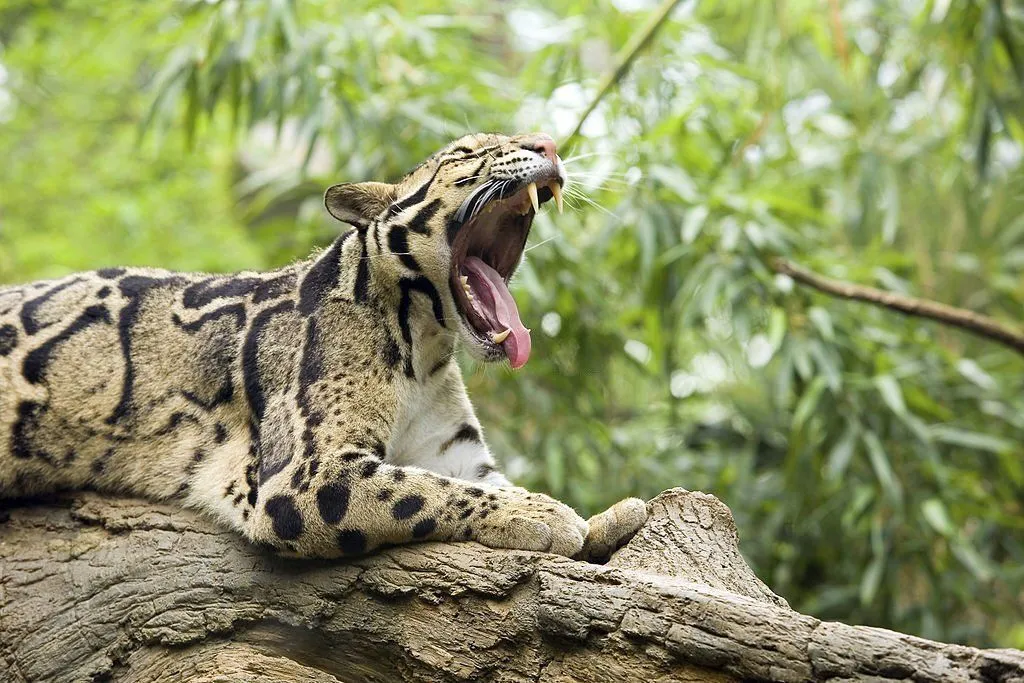 Clouded Leopard Appearance & Characteristics
Of all the great cats, the Clouded Leopard stands out as both visually striking and unusual. They're yellow to grey coats are marked with big, cloud-like markings that are bordered with black and are dark in the centre, giving them their cloudy name. Unlike the Cheetah, the Clouded Leopard is one of several cat species that can retract its claws into the skin on its toes to keep them sharp. Their short legs are strong enough to support their small but stocky bodies.
The canines of a Clouded Leopard can develop up to two inches in length, making them roughly the same length as those of a Tiger. They are distinguished by two large black bars on the back of their neck and a series of black rings that extend the entire length of their extraordinarily long tail. The 65-centimeter-long tail of a Clouded Leopard is employed for balance as the cat is climbing through the canopy.
Explore the Best Tiger Safari Tours in India.
Clouded Leopard Facts
Prey
Rodents, Monkeys, Deer
Name Of Young
Kitten
Group Behavior
Solitary
Fun Fact
Has canines that can be two inches long!
Estimated Population Size
Less than 10,000
Biggest Threat
Hunting and habitat loss
Most Distinctive Feature
Dark cloud-like markings and long tail
Other Name(s)
Sunda Clouded Leopard
Gestation Period
87 – 102 days
Habitat
Dense tropical forest and jungle
Predators
Tigers, Leopards, Humans
Diet
Carnivore
Average Litter Size
3
Lifestyle
Nocturnal/Crepuscular
Common Name
Clouded Leopard
Number Of Species
2
Location
South-east Asia
Slogan
Has canines that can be two inches long!
Group
Mammal
Color
Brown
Grey
Yellow
Black
Tawny
Skin Type
Fur
Top Speed
40 mph
Lifespan
11 – 17 years
Weight
11kg – 30kg (24lbs – 66lbs)
Length
60cm – 110cm (24in – 43in)
Age of Sexual Maturity
2 – 3 years
Age of Weaning
9 months
2. Caracal
This cat is known by both its common name, "caracal," and its scientific name, "Felis caracal." The Felidae family includes mammals like this cat, which puts it in the Mammalia phylum. The Turkish word karakulak is where we get the name "caracal." Black ears are called Karakulaks.
Locations, where caracals are common, include Africa, the Middle East, and India. Members of its closest kinship group include the serval and the African golden cat. The caracal stands out from other wild cats thanks to its distinctive black, tufted ears. The caracal's agility and vertical leap make it a formidable predator.
A fast cat: the caracal can reach speeds of up to 50 miles per hour when running. This is why it's often referred to as a gazelle cat.
A caracal is a skilled predator that can leap to catch a bird in midair.
The caracal's 20 muscles in each ear contribute to its acute hearing, which aids it in its pursuit of prey.
Caracal Appearance & Characteristics
A caracal's sleek coat is made up of short, rusty-gold hair, and it has a white rim of fur around each of its eyes. The ears of this cat are prominently erect and capped with long, black hair. Why caracals have tufts of hair on their ears is a mystery. However, other researchers think that caracals talk to each other through ear twitching.
The length of a caracal's tail ranges from roughly 8 to 13 inches. What this means is that a caracal's tail is typically around the same length as a standard school ruler. When pursuing a bird, rabbit, or other prey, a caracal can pivot and maintain its course with the help of its tail. Caracals use their tails like a boat's rudder.
The average weight of an adult caracal is between 40 and 20 pounds. A caracal weighs as much as two bowling balls if that gives you any notion of its size. The length of a caracal ranges from 24 to 42 inches, and its height at the shoulder is around 18 inches. That's roughly the height of a Border Collie, so it's not too shabby.
Caracals and servals are related. They share a similar body size yet inhabit quite diverse environments. Caracals prefer to live in arid, desert areas, while servals prefer damp, wet areas for hunting.
A caracal's legs are long and powerful. When hunting, it uses its powerful legs like springs to launch itself into the air and grab a bird in midair.
Caracals can climb trees thanks to their sharp claws, which allow them to grab onto branches and pull themselves upwards. They also make use of their sharp claws when hunting. The caracal releases a scent from between its toes and scratches trees to mark its territory.
Browse our popular Tiger Safari Tours in India.
Caracal Facts
Main Prey
Hares, Mice, Antelope
Distinctive Feature
Long, black ear tufts and short fur
Habitat
Dry woodland and savannah
Predators
Human, Hyena, Lions
Diet
Carnivore
Average Litter Size
3
Lifestyle
Solitary
Favorite Food
Hares
Type
Mammal
Slogan
Has 20 different muscles in it's ears!
Color
Brown
Black
Tan
Skin Type
Fur
Top Speed
50 mph
Lifespan
12 – 15 years
Weight
11kg – 18kg (24lbs – 40lbs)
Height
65cm – 90cm (2ft – 3ft)
3. Jungle Cat
The jungle cat is a carnivore that mostly feeds on rodents, gerbils, and hares. Fish, amphibians, reptiles, insects, and small snakes are all fair game for this predator. Its regular diet consists of small mammals weighing less than 1 kg (2.2 lb), but it has been known to consume young gazelles.
The Felis chaus, commonly known as the "jungle cat," is more commonly seen in the thick vegetation that typically surrounds wetland habitats. Common names for this species include Swamp Cat and Reed Cat.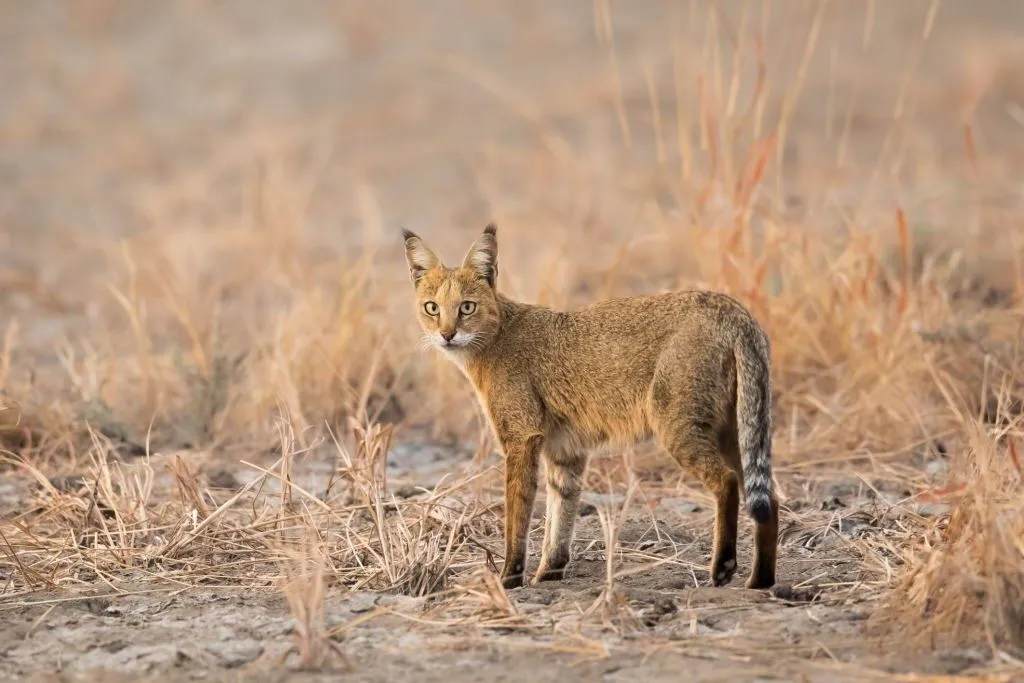 Jungle Cat Appearance & Characteristics
The upper parts of a Jungle Cat's body might be sandy or yellowish-grey, or greyish brown or tawny red, while the underside is cream or pale rufous. Once in a while, there will be some barely-there horizontal stripes on the legs that haven't totally faded from their younger selves. Their skull is long and slender, and their forehead is unusually high and dome-shaped. The ears are large and rounded on top, with short black hair at the tips, and they sit quite close together on the head. Iris colour is bright yellow. Their tail is quite short and has multiple dark rings and a black tip, while their legs are long and thin. Both Pakistan and India are home to melanistic people.
4. Bobcat (Lynx rufus)
The Bobcat is a medium-sized cat that lives in a wide range of southern North American habitats. The name "bobcat" comes from the fact that this common predator has a shorter tail than its larger and more northernly located relative, the Canadian lynx.
The Bobcat, which is roughly twice as large as a housecat, has the widest distribution of any of North America's felids, despite the fact that humans rarely catch a glimpse of one due to the animal's elusive nature. So far, scientists have identified twelve distinct subspecies of bobcat, each with its own unique coloration and distribution patterns. Those bobcats who live in mountainous forests tend to be darker and more heavily marked than their counterparts that inhabit the drier, semiarid regions.
Bobcat Appearance & Characteristics
Although they share a common ancestor with the lynx, the bobcat and lynx are very different creatures. In comparison to the Canadian Lynx, the bobcat is smaller, has shorter legs, and a smaller ear tuft. The level of the bobcat's mottling and spotting varies from animal to animal and from region to region.
Bobcats often have fur that is anywhere from beige to brown or reddish (those found in more open, arid areas tend to have fewer markings than those found amongst dense cover). The bobcat's short, black tail has a white tip, and the animal's underbelly is white, making the darker patches more noticeable. Bobcats, like Lynxes, have ruffs of longer fur around their faces and tufts of fur in their ears to improve their hearing.
Browse the Best Tiger Safaris in India.
Bobcat Facts
Prey
Rabbits, Mice, Deer
Name Of Young
Kitten
Group Behavior
Solitary
Fun Fact
About double the size of a domestic cat!
Estimated Population Size
1,000,000
Biggest Threat
Hunting and habitat loss
Most Distinctive Feature
Short ear tufts and bobbed tail
Other Name(s)
Red Lynx, Wildcat
Gestation Period
60 – 70 days
Habitat
Mountainous forest, swamp, desert
Predators
Cougar, Wolves, Coyotes
Diet
Carnivore
Average Litter Size
3
Lifestyle
Nocturnal/Crepuscular
Common Name
Bobcat
Number Of Species
12
Location
North America
Slogan
About double the size of a domestic cat!
Group
Mammal
Color
Brown
Red
Black
White
Tawny
Beige
Skin Type
Fur
Top Speed
34 mph
Lifespan
12 – 15 years
Weight
4.1kg – 15.3g (9lbs – 33lbs)
Length
65cm – 100cm (25in – 40in)
Age of Sexual Maturity
1 – 2 years
Age of Weaning
12 weeks
5. Lynx (Felis lynx)
Lynx are large wild cat species found in Asia, Europe and Canada. Huge furry paws, a short tail, and large ear tufts make the lynx easy to detect. In order to get around in the icy, chilly forests and mountains it its home, the enormous paws act as natural snowshoes.
Lynxes are solitary predators that only socialise during breeding season.
You may find four different species of these cats all around the world.
As an opportunistic predator, the lynx will typically consume any animal it is able to kill.
The tufted ears, short tail, and grayish-brown fur of a lynx make it a readily recognisable species.
Lynx Appearance & Characteristics
These cats stand out due to their enormous paws, tufted ears, and short tail. Species-specific variations in pigmentation account for the animal's wide range of appearance. The body colour ranges from a mild grayish-white to a dark golden brown. All mammals have a ruff of fur around their necks. Sometimes you can see the bowtie-shaped black bars that denote it. The undersides of the bodies of all species are covered in white fur.
The species determines the animal's height, weight, and body mass. The male Eurasian lynx can weigh up to 66 pounds, making it the heaviest of the lynx species. In terms of height, it's about 27 inches tall at the shoulder. The Canada lynx can range in size from 19 to 22 inches at the shoulder and 18 to 31 pounds in weight. Male Iberian lynx average 28 pounds, while females are smaller at 20 pounds. Variable shoulder height between 23 and 27 inches. The bobcat can range in size from 16-30 pounds and 20-24 inches in height.
Lynx Facts
Main Prey
Hare, Birds, Deer
Habitat
Secluded forests and mountainous regions
Predators
Wolf, Coyote, Human, Cougar
Diet
Carnivore
Average Litter Size
4
Lifestyle
Solitary
Favorite Food
Hare
Type
Mammal
Slogan
Live in dens in rocks and under ledges!
Color
Brown
Yellow
Black
Tan
Skin Type
Fur
Top Speed
50 mph
Lifespan
12-20 years
Weight
10-25kg (22-55lbs)